"BAD TRIP RECORDS"
---
>>>>> AnneRose Blayk - COMETMONGER <<<<<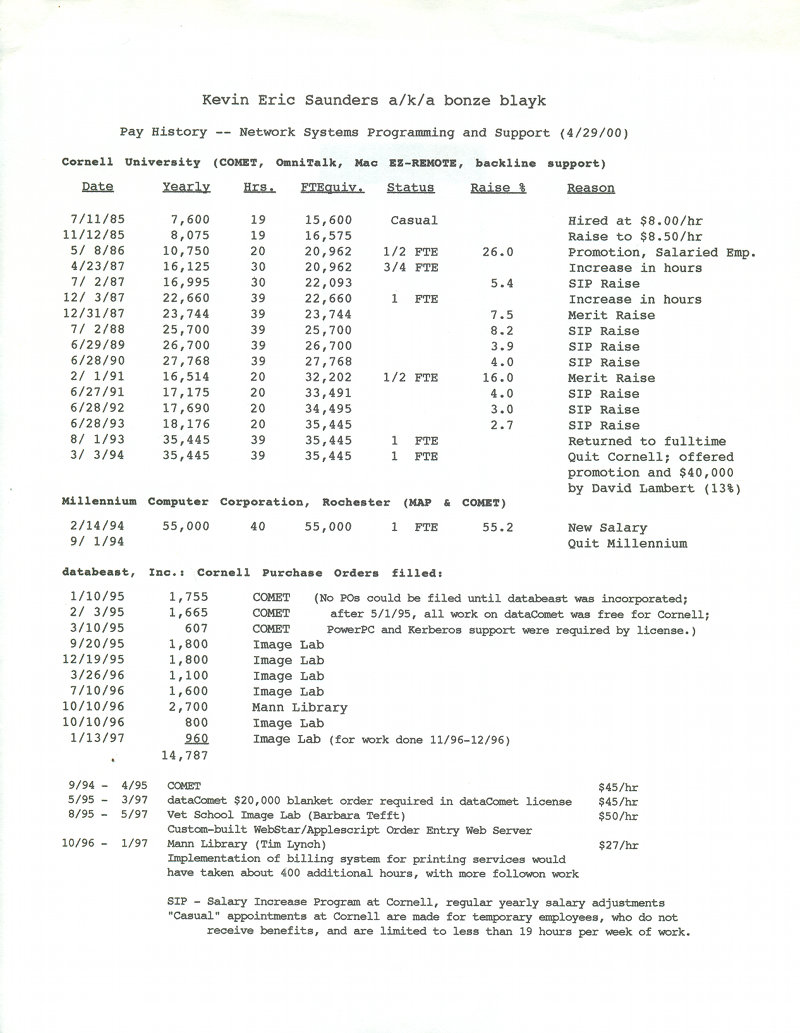 Salary History for 'Kevin Eric Saunders a/k/a bonze blayk' dated April 29, 2000, as provided to Linda Riley LMHC of Tompkins County Mental Health and the New York State Office of Mental Health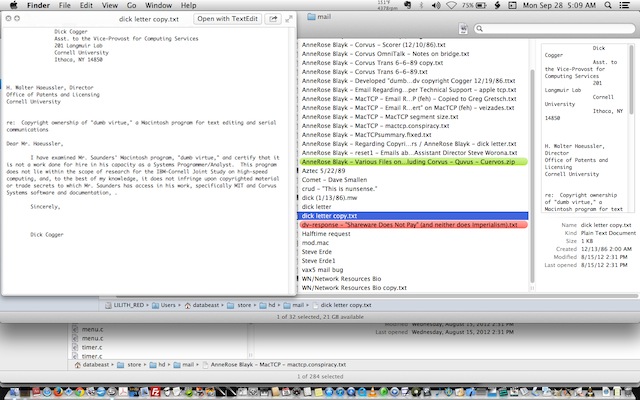 Draft of Letter from Dick Cogger ca. 1986 affirming that dumb virtue was developed independently by AnneRose Blayk

1991-02-13 AnneRose Blayk - Dick Cogger Promotion Plan.pdf - 1MB PDF


AnneRose Blayk - Cornell Work History - Salary Increase Program
- Employee Evaluation Letters - 1985-1992.pdf - 136MB PDF


AnneRose Blayk - Cornell University Personnel Action Forms - 1985-1994.pdf - 75MB PDF


AnneRose Blayk - Millennium Computer Corporation Pay Stubs - 1994.pdf - 84MB PDF


---
SO HOW DID YOU DO ALL ON YOUR OWN WEARING TEN HATS?
I may not have made much money - being poisoned with PCP in April 2003 "kind of" interfered with making a bundle of it? sigh - but what I had accompished after five years of hard work on an independent basis was some righteous software development!



---
And oh yeah? I added support for encryption with Kerberos 5 at the behest of the University of Pennsylvania and the inducement of $10,000 to encourage me, and added support for SSH "Secure Shell," so I needed to get a license to export encryption software from the government.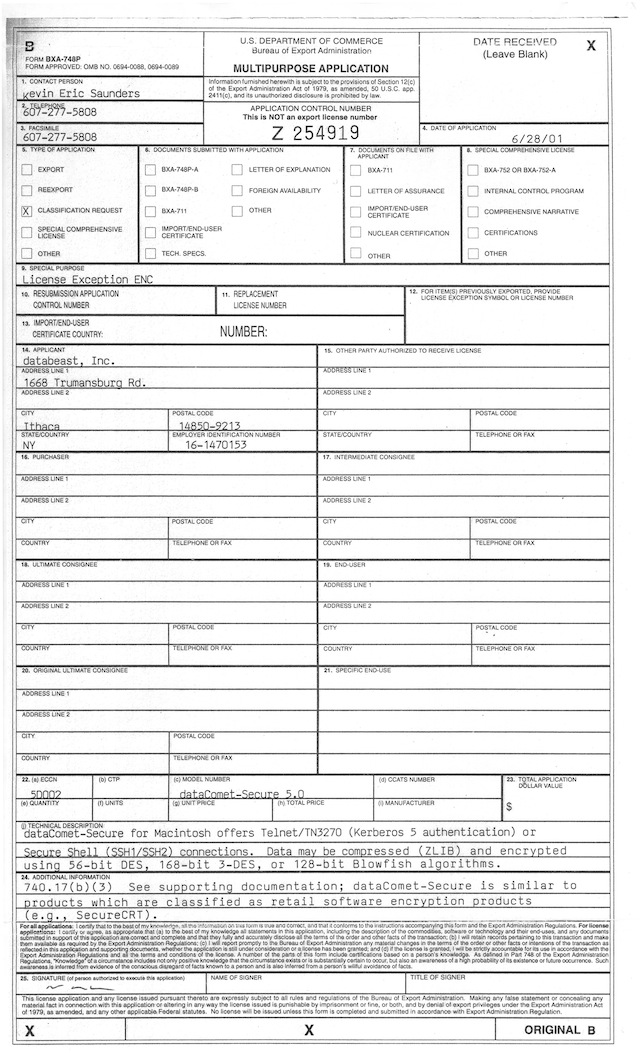 2001-07-02 ENC 740 Application to BIS and NSA - OCR.pdf - 40MB PDF

2002-09-13 ENC 740 Application to BIS and NSA - OCR.pdf - 11MB PDF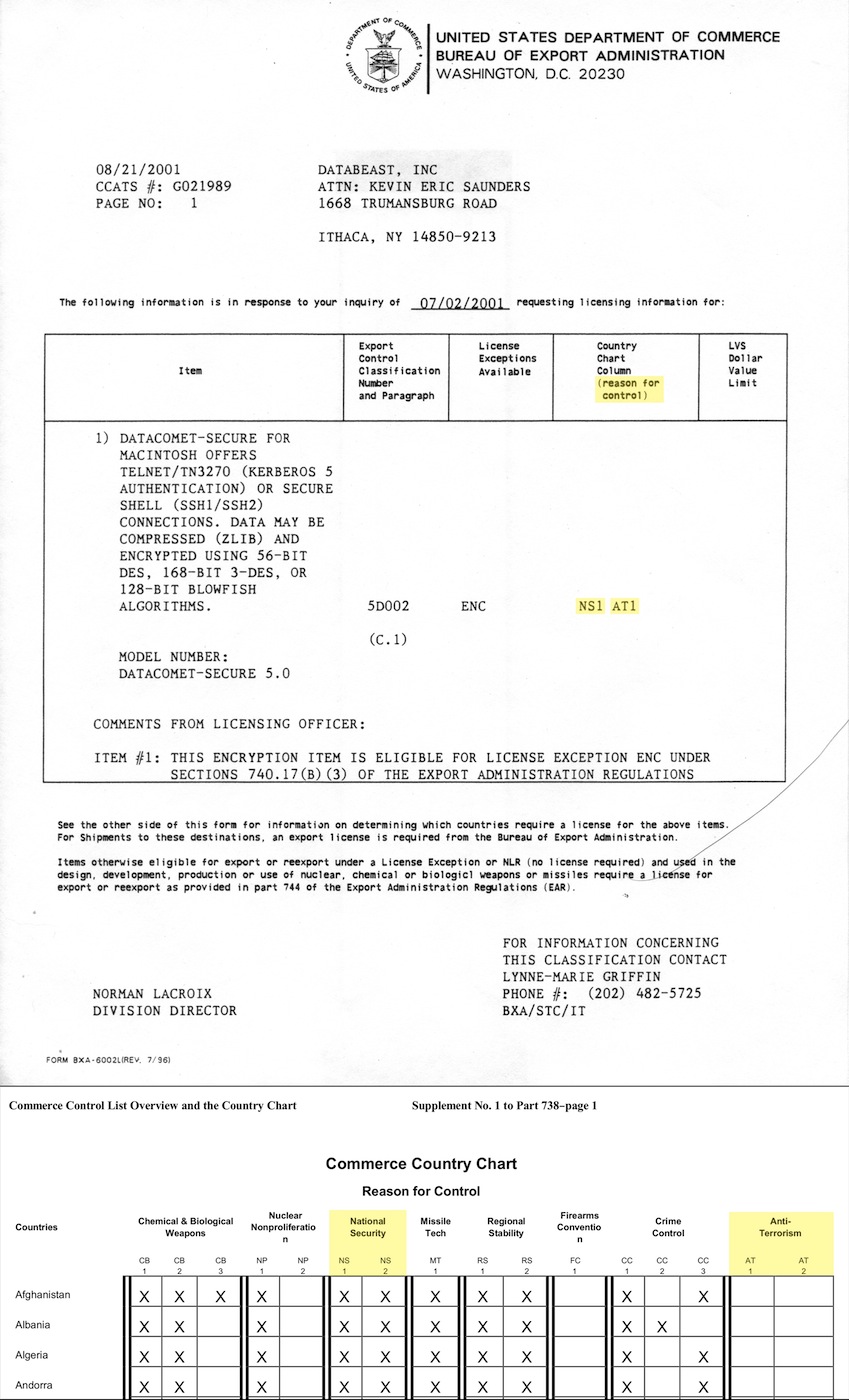 My application is approved, so I join the select ranks of those fortunate enough to pass a review by the NSA (National Security Agency) and the FBI, and be permitted to export secure software - with the "minor" obligation of not fucking up, and exporting it to one of the "seven deadly terrorist states" or agents thereof?
THAT WOULD BE BAD - to the tune of 10 years in Federal prison and a $100,000 fine, since increased, for EACH copy of dataComet-Secure exported to the wrong country, so who trusts me?
THE FEDS
AND WHO DOES NOT: The New York State
Office of Mental Health? "Whaaat?"
---
- "He is untrustworthy, people don't trust him." - Paul Thaddeus Povinelli PhD - p. 12.
2003-04-24 - Transcript of Release Application Hearing
____________________

"I have never lost a case!" - Paul Thaddeus Povinelli PhD

admissible in evidence as hearsay as an "excitable utterance"

FAT TONY SAYS: "He never loses? It's a RIGGED GAME!"
____________________


---
AnneRose Blayk f/k/a "Kevin Eric Saunders a/k/a bonze blayk",
Network Systems Programmer, CometMonger, … and Pothead
AnneRose Blayk
Updated 2/19/16, 4/22/16, 6/14/16